Genre: Memoir/Grief
Recommended!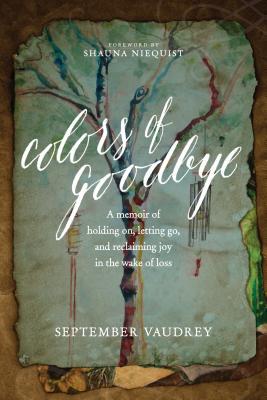 September Vaudrey writes a beautiful memoir of the vibrant life of her daughter, Katie, who joined Jesus unexpectedly at age 19. She gracefully and honestly captures the depths and intersections of grief, joy, death, life, pain and love. There were also unexpected moments of suspense in seeing how God may have been working behind the scenes of this tragedy–His showing up in the most unconventional ways.
Katie was an artist, and some of her paintings/artwork are scattered throughout the book (including the front cover design, which is a rough draft of her newest work, shortly before her death). The book sections are also appropriately titled by meaningful paint colors, carrying on the depth of Katie's artistic passion. The art and family pictures brought an added sense of connectedness to the Vaudrey family, and the treasure of Katie's life.
This is a touching memoir. I love how September shows her grieving process within the perspective of the community, including how each family member needed to grieve differently, and how their extended family, church family, and community surrounded them in a manner that soothed them within their pain. This book is inspiring, hopeful, and life-giving.
I received a complimentary copy of this book from Tyndale Momentum.