Genre: Apocalyptic/Mennonite/Romance
Not Recommended.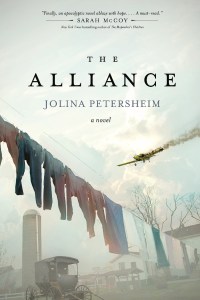 A pacifist Mennonite community agrees to take in stranded "Englischers" after an EMP attack; and together the community must find a way to survive the aftermath, while confronting their personal values and physical needs. Heroine, Leora Ebersole is caught in a love triangle between the Mennonite "boy-next-door" who has always loved her, and the attractive pilot who crashed his plane in her backyard during the EMP attack.
This reads like young adult fiction, both in writing style and depth of content. The story raises interesting questions as to keeping one's faith and moral values in the event of mass chaos and destruction, as well as illustrating our contemporary dependence on EMP (electromagnetic pulse). Some parts of it are interesting, and I read it through to the end without too much inner complaint.
So much more could have been done with this plot structure. I enjoyed the unique merging of two cultures, but the narrative did not carry the substance or depth of the apocalyptic storyline. Suspense was lacking. It was predictable. And I disliked the shallow romance, which should have been a side story, rather than the main event.
I received a complimentary copy of this book from Tyndale.