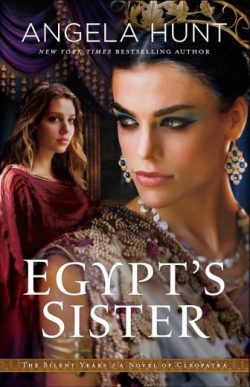 Genre: Historical Fiction
Series: The Silent Years
Highly Recommended!
In Alexandria, Egypt, Chava is a Jewish girl with a close relationship with the young Cleopatra, as her father is the royal tutor for the Ptolemy household. Believing God has destined her to be a blessing to Cleopatra when she becomes queen, Chava chooses not to marry, and seeks to serve Cleopatra at every possibility. However, this choice is more challenging than Chava could have anticipated, as Chava must choose between her faith and her position.
Angela Hunt is one of my favorite writers for Christian historical fiction. The historical details are smartly woven into the narrative, providing vivid insight into the worlds of Egypt and Rome, alongside an adventurous and heart-felt story of friendship, loyalty, godliness, and forgiveness.
This is not so much a story of Cleopatra, as it is of Chava's sacrificial love for her friend. I love the depth of Chava's character, and her determination to choose the difficult path of following God, rather than the comfort of marriage. While Chava's life unravels very differently than she anticipates, God's promises to her are met in surprising ways. The honesty of the story is encouraging, and well worth the read!
I received a complimentary copy of this book from Bethany House.