Genre: Contemporary Fiction/Fantasy/YA
Series: The Delusion, Book 1
Highly Recommended!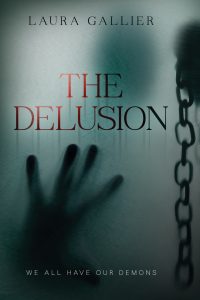 This novel is a powerful illustration of spiritual warfare, with a simultaneously engaging story.
Suicide has become an epidemic at Masonville High School. High school senior, Owen Edmonds has a strange encounter that allows him to see creepy creatures preying on his friends and family–binding them with shackles and chains, and manipulating their thoughts. Warning people about the unseen evil he sees makes things worse. Owen also encounters a girl who is different. While everyone else is in bondage, she is glowing. What does she have that the others are missing? And why aren't the angelic beings that Owen also sees not always able to intervene? Owen searches for truth, while also becoming more engaged in the mystery and physical obstacles that surround him, and the impending threat which darkness is planning for his high school.
This is one of the best YA novels I've read. It addresses relevant struggles, while illuminating the very real spiritual battle behind the physical experience of depression and other negative thought patterns. There is freedom in knowing what we are fighting against, and receiving the truth in Jesus that brings life.
The writing is aimed at middle and high school students, and are books I would like my own kids to read. My only critique is that the end comes pretty abruptly, with much more to be addressed. I look forward to the other books in the series.
I received a complimentary copy of this book from Tyndale.