Genre: Homeschooling/Christian Life
Recommended.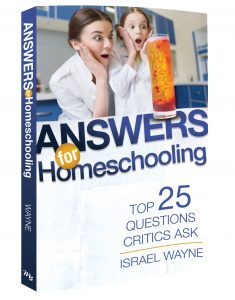 This is a great resource for Christian families considering homeschooling, who are unsure about certain aspects or capability, as well as for those actively homeschooling who don't know how to respond to critical comments. It is written in a conversational manner, and includes references to other beneficial resources for new homeschool families.
I appreciated learning the history of homeschooling, and the great risks of many homeschool pioneers in gaining this freedom. This foundation was a great way to begin the book, as it left me with a deeper awareness and gratitude of this privilege.
I am also especially impacted by Israel Wayne's commentary on socialization, which comes up frequently in my own experience. He lays a persuasive biblical foundation of the quality of companionship within the social experience, and the necessity of having proper relationships in place for learning to be possible. The argument of being "salt and light" in the world (public/private schools) is similarly addressed in a compelling manner.
Some sections caused me to think differently about certain aspects of homeschooling (e.g. whether or not to accept government funding–I hadn't considered some of the negative implications). Other areas were less relevant to me (e.g. I'm not concerned about my teaching/academic capability, although many readers may find this very encouraging; and my husband and I have a system in place regarding our educational roles, which is different from the author's suggestion, but works for us personally).
Overall, I was surprised by the helpfulness of this resource in addressing issues I would not have considered to ask, and providing new information interwoven with spiritual encouragement and a biblical precedent for homeschooling. I am more inspired than ever by our commitment to this form of schooling, and found the book freshly edifying.
I received a complimentary copy of this book from Master Books.