Genre: Romantic Suspense
Series: Finding Sanctuary, Book Two
Recommended.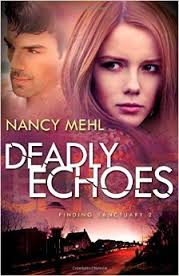 Sarah and her sister, Hannah, are finally united again as adults after witnessing the murder of their parents years ago from their hiding place under the staircase of their family home. The murder had been entered in the system as a burglary, and the case closed. But when Hannah is unexpectedly killed in a very similar manner after looking into her parents' death, Sarah begins to do some investigation along with the help of her handsome friend, Paul.
I really enjoyed this story. It is a little predictable, but not lacking in suspense or depth. Also, Sarah lives in the small Mennonite town of Sanctuary, and I really like the dichotomy of a murder mystery set against glimpses of the beautiful simplicity of the Mennonite culture.
As the narrative unravels, Sarah learns how to love herself, and to recognize her unique, God-given, beauty and talents apart from the sister she admired and revered above herself. It's a touching story that has the added elements of mystery and light romance. I really enjoyed reading it.
I received a complimentary copy of this book from Bethany House.